What will Kentucky Book Festival visitors find on your table?
The Common Wealth of Kentucky Project was written and produced by Beth Pride and Kentucky artist Kelly Brewer. It is a time capsule of the inspirational and powerful journey across the state, painting Kentuckians from life and recording and telling their stories. The groundbreaking, 11×11 beautiful, limited-edition book captures 21st century Kentucky through vibrant oil painting portraits of people from all backgrounds and interests, descriptive non-fiction narratives that tell their human stories, and QR codes that connect the reader to part of their oral history told in their individually resonant voices.
Fine art and narrative and oral storytelling combine to reveal the wealth of this beautiful Kentucky, the people who live here, and the common connections we, as humans, have with one another.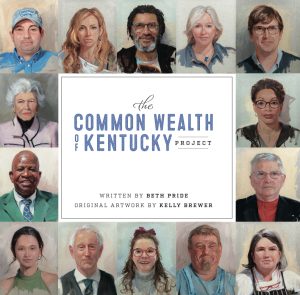 Whom do you invite to stop by? Who will benefit from reading your book?
We invite anyone to stop by our table! We love meeting people, hearing their stories, and sharing in the human experience. Particularly those who love art and non-fiction storytelling, narrative and oral history, culture, and of course Kentucky—if you love Kentucky or know someone who does, we and our book will connect with you in a very special way.
Could you please tell us something curious about you and/or your book?
Beth Pride and Kelly Brewer had no intention of publishing a book together, but after a challenging COVID where Kentucky artist Kelly lost her mother to breast cancer, she explained her inspired idea to writer and good friend Beth Pride, "I want to paint people and give back in some way through my art—have an exhibit and raise money for my mother's foundation." (The Jo B. Robertson Charitable Foundation).
After spending over a year traveling across the state with Kelly painting Kentuckians from life and Beth sharing the beautiful Kentucky story through blog, video, and social media, after putting together an art exhibit of over 100 oil paintings thanks to LexArts Gallery in downtown Lexington, and sharing the experience with hundreds of school children and art and culture enthusiasts, and raising thousands for the Foundation through art sales, Kelly and Beth did not want the project to end. The sold paintings would live on in people's homes and offices, but the collective human stories that came together in the exhibit that built a community of human connection—that needed to last. The book continues to give back with 10% of proceeds from the sale of The Common Wealth of Kentucky Project donated to the Jo B. Robertson Charitable Foundation.
Is this your first time participating in Kentucky Book Festival? If yes – what are you looking forward to the most? If you've participated before – what was your favorite experience at the Festival?
This is our first time as authors at the Kentucky Book Festival and we are thrilled to be a part of it. During the CWKY project, we spent hours with individuals, digging into their histories, connecting with them in a very human way, and learning something new with each encounter. With Kelly continuing to paint and Beth writing her first fiction novel, we have missed our people time and can't wait to talk to the many who will come, who love books and stories, and who, no doubt, have great stories of their own.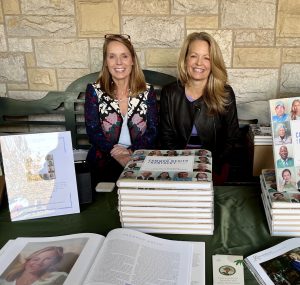 For 25 years, Beth Pride worked in education as a teacher, administrator, and consultant. Since beginning a career as an artist in 2008, Kentucky contemporary impressionist painter Kelly Brewer has developed a national and international following. In The Common Wealth of Kentucky Project, art and storytelling reveal the wealth of this land, the people who live here, and the common connections we, as humans, have with one another.