Kristin O'Donnell Tubb, the award-winning author of A Dog Like Daisy, delivers another heartwarming must-read middle grade novel for dog lovers. Equal parts funny and poignant, this book from the point of view of the service dog, Zeus, is perfect for fans of Max and A Dog Called Homeless. Zeus comes from a long line of heroic dogs, and he dreams of glory as a K9 commander. But he receives a much more dangerous assignment–middle school! And as all good service dogs know, the only way to get through hostile territory is by being invisible. Zeus's new human, Madden, is diabetic, and he wants to be invisible, too. That's hard to do with a huge German Shepherd at his side to alert him when his blood sugar drops. And it's even harder because Madden makes this noise called music that draws attention. Zeus's mission becomes clear: he must destroy music. While Zeus's training prepared him for his most important job–keeping Madden safe–he discovers the human world is complicated. As Madden dreams of winning the state band competition and tries to reconnect with his mom, the lieutenant, Zeus must learn that, sometimes, you need to stand out to fulfill your duty.
Also by Kristin…volume two of the Story Collector series: The Story Seeker! Kristin will discuss The Story Seeker during the virtual event on November 10. See the Schedule page for details!
Inspired by the true story of a girl who lived in the library, Kristen O'Donnell Tubb's The Story Seeker continues The Story Collector series with a heartwarming middle grade mystery that captures the illustrious New York Public Library during the roaring 20's.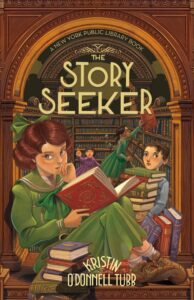 Twelve-year-old Viviani Fedeler, proud resident of the New York Public Library, has her sights set on becoming a star reporter. She's thrilled when Miss Hutch announces a story contest where the winner gets their essay printed in the New York Times!
But then Viviani gets her first-ever case of writer's block. As she struggles to find inspiration, the library is hit with a strange mystery involving overdue books, secret messages, and perhaps a spy
lurking among the shelves . . . Will Viviani be able to crack the code and find the perfect story worthy of a byline?