What will Kentucky Book Festival visitors find on your table?
Kentucky Book Festival visitors will find on my table all three books in the Magic Pen Adventure series! In each book, a different middle schooler obtains a magic pen that makes everything they draw become real!
In Monster Problems, sixth grader Brad draws a monster to get his bratty little brother, not knowing that the pen is magic. When the monster becomes real, Brad and his brother have to figure out how to erase the monster before it's too late!
In Super Problems, new kid in town Scott draws his new classmates into a comic book of his own creation, creating a superhero team called the Alpaca Defense Squad, with himself and each kid as a superhero with their own adventures and enemies. The team's mission is to protect the school's mascot, an alpaca named Bruce, from the evil Stinky Sock, a living smelly sock who wants Bruce's magic wool for himself to weave an army of invincible sock-warriors. Thanks to the magic pen, all of it becomes real, and they find out being a superhero is not all it's cracked up to be!
In Time Problems, Rachel doesn't want to go to sixth grade. She's heard the older kids are mean and the schoolwork is harder. When she obtains the magic pen, she is inspired by one of her stuffed animals to create the Timeduck, a duck wizard who can control time itself, and make it so the summer vacation before sixth grade will never end! But Rachel soon learns that messing around with time has unintended consequences that she must fix before time itself is destroyed!
At my table kids can also draw pictures! The idea is that you pretend you have the magic pen from my books. What would you draw if you had a magic pen that made everything you draw become real? I share the pictures that kids draw on my social media to help promote creativity and imagination!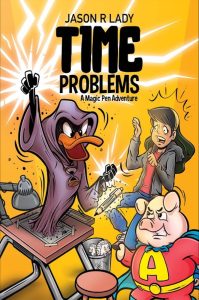 Whom do you invite to stop by? Who will benefit from reading your book?
I invite kids (and their parents, grandparents, aunts, uncles, teachers, and other adult figures in their lives) to stop by my table. The Magic Pen Adventures are written for the upper elementary/middle school age range and are fun, zany adventure stories with lots of humor and mindboggling plot twists. Younger kids are also welcome (they enjoy my books, too—very young ones have had the books read to them and enjoyed them), and adults who are kids at heart, too!
Could you please tell us something curious about you and/or your book?
Time Problems is based on my own fears from when I was a kid about going into sixth grade! I got the idea for the story when thinking about that fear and what I might have done if I'd had a magic pen where everything I drew became real!
Is this your first time participating in Kentucky Book Festival? If yes – what are you looking forward to the most? If you've participated before – what was your favorite experience at the Festival?
I participated in the Kentucky Book Festival in 2020 with my first book Monster Problems. My favorite experience was the Middle Grade author panel on YouTube! The festival was virtual because of the pandemic, so I am excited this year to meet readers in person and share my Magic Pen Adventure books with them!
Jason is an army brat who grew up on military bases from Germany to Fort Knox, KY. Rachel, the main character in Time Problems, is dreading middle school. She thinks an endless summer would solve her problems. Inspired by her stuffed animals, Rachel draws characters to make her dream come true.