What will Kentucky Book Festival visitors find on your table?
Next to the big bowl of delicious candy on my table, visitors will find my recent historical novel Cradles of the Reich, the story of three very different German women who meet at a Nazi baby breeding home at the start of World War 2. I've been told that although the topic is weighty, the story itself is an uplifting one about the connections women forge and how friendships can help us rise to heroism we never knew we were capable of.
The festival will also have copies of my mother-daughter travel memoir We'll Always Have Paris, the adventures (and foibles) of my daughter Katie and my adventures in Europe.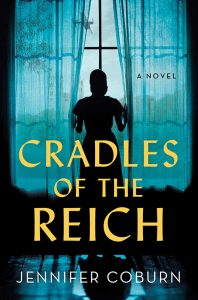 Whom do you invite to stop by? Who will benefit from reading your book?
Women in book clubs tend to be my biggest readers. Kirkus reviews called the novel "a deep well of book discussion topics." Typically a woman who loves historical fiction will pick up Cradles of the Reich then suggest it for her club.
Could you please tell us something curious about you and/or your book?
I just returned from a research trip in the Czech Republic where my next novel The Girls of the Glimmer Factory is set.
My wonderful daughter Katie is now in graduate school, who I miss dearly. She is a big part of my travel memoir We'll Always Have Paris.
Judge Judy is my guilty pleasure.
Is this your first time participating in Kentucky Book Festival? If yes – what are you looking forward to the most? If you've participated before – what was your favorite experience at the Festival?
I absolutely love connecting with readers and sharing my stories about researching Cradles of the Reich. Readers are often amazed at how much goes into the nitty gritty details like what season a German family might eat rabbit stew. (Ask me. I do all the accents with apologies to the German people.)
Jennifer lives in San Diego with her husband and is the author of Cradles of the Reich, a historical novel about three very different women living at a Nazi Lebensborn breeding home at the start of World War ll.