What will Kentucky Book Festival visitors find on your table?
I'll have the latest copy of my poetry chapbook The Vine Temple, which features poems about the Louisville bussing riots and the Cemetery for CSA Veterans in Pewee Valley, Kentucky.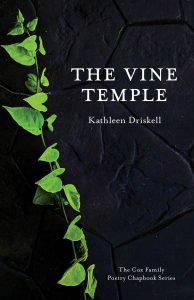 I'll also have my award-winning collection Next Door to the Dead. Thirty years ago, my husband and I bought an old country church built before the American Civil War to live in; next door is a little graveyard I've come to feel I look after. Next Door to the Dead is full of persona poems of the imagined dead there in Mt. Zion Cemetery, including a poem about Alpha Beta Blankenbaker, an infant whose little gravestone is engraved with only one date in 1854, marking both her birth and death.
My collection Seed Across Snow was named a Poetry Foundation national bestseller and features poems about my home in the old church and all the ways people have believed it to be haunted.
And I'll have copies of Creativity & Compassion: Spalding Writers Celebrate Twenty Years, an anthology of short craft and writing essays marking the anniversary of our nationally distinguished MFA program and the Naslund-Mann Graduate School of Writing at Spalding University, where I'm Chair and professor of creative writing. Creativity & Compassion is an inspiring must-have for writers and features the work of my colleagues, including Kentucky writers Silas House, Sena Jeter Naslund, Crystal Wilkinson, Fenton Johnson, Kirby Gann, and more.
Whom do you invite to stop by? Who will benefit from reading your book?
I'd love to talk poetry with folks  interested in history, especially Kentucky history. And I'm happy to talk about the world of Kentucky writers and share what I know about publishing.
Could you please tell us something curious about you and/or your book?
For nearly thirty years, I've lived with my family on the outskirts of Jefferson County near a train trestle that is supposed to be haunted by the Pope Lick Monster. I've had to chase off any number of legend trippers who've dropped by unexpectedly, believing my home in the old church is also a hideout for the infamous goat man.
Is this your first time participating in Kentucky Book Festival? If yes – what are you looking forward to the most? If you've participated before – what was your favorite experience at the Festival?
I've participated in the Kentucky Book Festival a number of times and always find it great fun to be with Kentucky readers and writers. Last year I had a fantastic time in the Writers' Room talking to a diverse group of writers, sharing what I know about how to be published.
Past chair of the AWP Board (2019-22), Kathleen Driskell is professor of Creative Writing and Chair of the Naslund-Mann Graduate School of Writing at Spalding University, home of the nationally distinguished low-residency MFA in Writing Program. The poems in The Vine Temple meditate on light and darkness in the natural world.