What will Kentucky Book Festival visitors find on your table?
Vermilion Sunrise is a Young Adult science fiction book set on a distant planet. Stranded on an island surrounded by unknown seas, a group of teenagers fight to establish the first human colony beyond our solar system.
As a former middle school and high school English teacher, I'll also have cross-curricular materials: specific English/science tie-ins, plus information about incorporating YA science fiction into the STEM curriculum.
Whom do you invite to stop by? Who will benefit from reading your book?
Readers who like stories of adventure, survival, and friendship will enjoy Vermilion Sunrise. Those who appreciate a slow-burn romance in the mix will enjoy that, too. Vermilion Sunrise is a classic science fiction exploration story with modern teenage characters from countries around the world. Themes of found family and resilience are prevalent.
Vermilion Sunrise is character-driven, low-tech, well-researched science fiction. Therefore, the novel appeals to those who like sci-fi grounded in real science and to those who typically don't read sci-fi at all. Most of all, it's a fun adventure.
Could you please tell us something curious about you and/or your book?
"Same galaxy, different view." The nighttime sky in Vermilion Sunrise looks quite different from what the characters are used to back on Earth—not only because there are three moons, but also because there's no light pollution. At times, the sight of so many stars makes the characters feel small; however, they also gain a deeper connection to the universe because of the view.
Writing the novel made me appreciate my own dark sky experiences—the times I've been able to see the Milky Way and a dizzying number of stars. It led me to the International Dark Sky Association, which works to preserve the star-filled night sky as something we share around the world. I've recently attended "Lights Out: Recovering Our Night Sky," the new Smithsonian exhibit in Washington, D.C., and I've spoken to readers about the importance of dark skies at night. I feel lucky that writing a novel set on a distant, fictional planet has inspired me to take an interest in our night sky here on Earth.
Is this your first time participating in Kentucky Book Festival? If yes – what are you looking forward to the most? If you've participated before – what was your favorite experience at the Festival?
This is my first time at KBF. I look forward to being surrounded by readers and writers at one of my favorite bookstores. A perfect Saturday!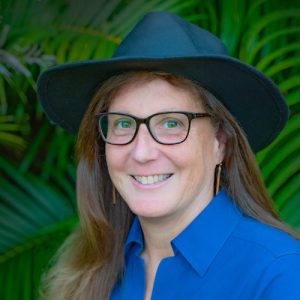 Lydia P. Brownlow grew up in Louisville, KY. Fortunately, her parents didn't make her choose between being a literature kid or a science kid, so she became both. Vermilion Sunrise is a young adult sci-fi novel about the first human colony in another solar system.