What will Kentucky Book Festival visitors find on your table?
Visitors will find a newly published biography of Kentucky activist, politician, and attorney Gatewood Galbraith, Gatewood: Kentucky's Uncommon Man. Throughout his political career, regional and national media outlets focused on the policy ideas and public acts that made Gatewood a cultural fixture: public demonstrations, an affinity for recreational drug use, unfiltered language, and recurring political campaigns. Best known as an advocate for the legalization of cannabis, Second Amendment rights, and smaller government, Gatewood was a perennial candidate whose once-quixotic platform might have found traction in contemporary Kentucky politics.
This revealing biography features insightful conversations with Gatewood's family and colleagues, as well as commentary from well-known Kentuckians. Gatewood provides a richer and nuanced understanding of a generous, complicated, and flawed public figure who devoted his life to helping others and whose legacy will continue to resonate with Kentuckians for generations to come.
Whom do you invite to stop by? Who will benefit from reading your book?
This book focuses on an important and colorful figure in Kentucky's history, but of course I invite anyone to stop by! Readers who have an interest in Kentucky history, politics, activism, and/or hemp/marijuana policy will especially be interested in the book. Even if they don't know who Gatewood was, or don't have a specific interest in these areas, his story is so compelling and interesting that this book will have a broad appeal to anyone simply looking for their next engaging read.
Could you please tell us something curious about you and/or your book?
This book benefits from conversations and commentary with former political figures and current officeholders, including Governor Paul E. Patton, Governor Ernie Fletcher, Rep. Andy Barr, Rep. James Comer, Ben Chandler, Scotty Baesler, and many more. I would encourage anyone interested in similar avenues of research to not be afraid to reach out to politicians or public figures who may seem to be unlikely to speak with you. Most people are willing (and enjoy) to speak with you about their lives and interests, so don't hesitate to try!
Is this your first time participating in Kentucky Book Festival? If yes – what are you looking forward to the most? If you've participated before – what was your favorite experience at the Festival?
This is my first time participating in the Festival. I'm most looking forward to having conversations with readers, as well as having a chance to interact with the amazing authors doing work in Kentucky. The writing and work being done in and about Kentucky is astounding, and I can't wait to meet some of my favorite authors!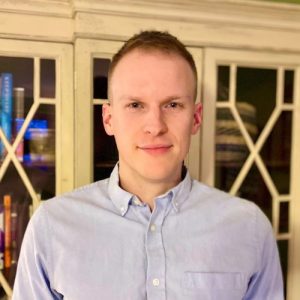 Matthew Strandmark is an educator, researcher, and archivist. Gatewood: Kentucky's Uncommon Man weaves together personal stories, public records, and oral history interviews to provide a comprehensive overview of the life and career of an eccentric and fascinating figure.