What will Kentucky Book Festival visitors find on your table?
Visitors to the table will find my most recent work: Daniel Coit Gilman and the Birth of the American Research University, published last year by Johns Hopkins University Press. This is the first full-dress biography in the last sixty years dedicated to the most important educational leaders of the latter part of the 19th century. Louisville native and medical education reformer, Abraham Flexner, called Gilman "the most effective educational advocate our country has ever produced." Former Columbia University Provost and Dean of the Faculties, Jonathan Cole, wrote this about the Gilman biography: "With the opening of Johns Hopkins University in 1876, a century after Independence, the American research university was born.  The force behind the great transformation was Hopkins' founding President, Daniel Coit Gilman. Until now too little has been written about Gilman.  Now, finally, Michael T. Benson has written the definitive biography of the man who changed our educational paradigm almost single-handedly.  Gilman started the revolution.
With grace, insight, and rich description, Benson takes us along on the travels of Gilman.  This book will allow you to rethink the history of the culture, values, and individual creativity that allowed our research universities to produce scholars and scientists of the first rank. Many of these people made pathbreaking, innovative, and useful discoveries produced at our universities from the last quarter of the 19th century until today.  This book should be read by anyone interested in the history of education and the evolution of American society.  You'll find it a treat to read."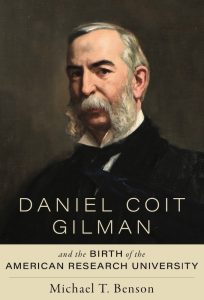 Also on the table will be the first book my co-author, Hal Boyd, and I did for the University Press of Kentucky in 2017. Titled, College for the Commonwealth: A Case for Higher Education in American Democracy, this volume uses Kentucky-specific examples illustrating the impact higher education has had on the Commonwealth and why in investing even more in human capital is of paramount importance. In reviewing the book, the Bowling Green Daily News wrote: "Benson and Boyd's analysis and critique of a vital sector of our society [is] remarkably articulate and thought-provoking. Even if you have never set foot on a college campus, if you live in Kentucky, your future is inexorably tied to the viability of the higher education opportunities we make available to the citizens of our great state. College for the Commonwealth makes a very convincing, data-driven case that we truly are all in this together. Highly recommended."
Whom do you invite to stop by? Who will benefit from reading your book?
I hope visitors to my table will be those who love history and biography, especially the life stories of those whom they may not know very well, like Daniel Coit Gilman. I also hope that in considering this book, readers will come to appreciate what remains the envy of the world: our American higher education system. There has never been anything like it—ever—in terms of access, affordability, impact on society, and the production of life-changing technologies, medical advances, and applied knowledge all which benefit each of us every single day in incalculable ways.
Could you please tell us something curious about you and/or your book?
There is so much to Gilman and writing this biography was a great responsibility but also the most enjoyable educational journey I've ever undertaken. At a very early age, Gilman sensed that he was destined for significant opportunities and leadership positions, as were those around him. Consider this: Gilman was an 1852 geography graduate of Yale and in his class (and the year following), were the founding presidents of 3 remarkable higher education institutions. Daniel Coit Gilman became the first president of Johns Hopkins University in 1876, William Preston Johnston was appointed the first president of Tulane University in 1884 (Johnston was the son of Kentucky native and Transylvania University alumnus, Albert Sidney Johnston), and Andrew Dickson White helped to found Cornell University and was named its first president in 1866. That's a very accomplished group of Yale graduates.
Is this your first time participating in Kentucky Book Festival? If yes – what are you looking forward to the most? If you've participated before – what was your favorite experience at the Festival?
This is my second time at the Festival and I'm extremely honored to have been invited to come back. The Gilman book was written during a sabbatical year spent hunkered down in the Eastern Kentucky University John Crabbe Library (during the 2020 Covid pandemic), and before we relocated to South Carolina in January 2021. So I like to say this title has deep Kentucky roots. My last experience at the Kentucky Book Festival—arguably one of the best festivals in the entire country—was in November 2018 so I'm delighted to be returning. My favorite part was meeting people and learning of their love of books and their particular interest in specific titles. To be in room with people who love books as much as I do was a real treat!
Michael T. Benson is president and professor of history at Coastal Carolina University. This book focuses on the enduring legacy of Daniel Coit Gilman, the father of the modern research university.