What will Kentucky Book Festival visitors find on your table?
FLIPPIN' SKATERS (2023). This is Teresa's latest release, and is a YA contemporary novel about self-love in the face of online bullying. After a photo of Aspen goes viral and destroys her reputation, she copes by reinventing herself as a fierce, gravity-defying roller skater with some pretty impressive moves on the ramps. Part mystery, part rom-com, and part love letter to roller skating, this book is full of heart, and highlights the power of getting back up after a fall.
THE WINDFALL APP (2018). A YA contemporary suspense about a girl who wins the lottery, only to find herself at the center of someone else's life-or-death game.
EMERALD BOUND (2015) and TOPAZ REIGN (2017). A speculative duology featuring fairy-tale retellings of the Princess and the Pea and Thumbelina. When Maggie's best friend falls victim to an ancient, cursed emerald and becomes trapped inside, Maggie embarks on a journey to save her friend, not knowing just how real–or malevolent–these fanciful stories truly are.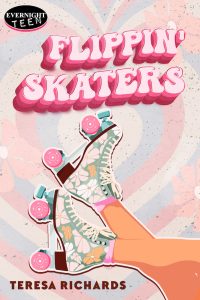 Whom do you invite to stop by? Who will benefit from reading your book?
I love meeting young readers! Teens of all ages connect well with my books, as do many young-at-heart older readers who enjoy stories of imperfect heroines finding their moxie as they honor themselves and utilize their unique talents in tackling challenges. FLIPPIN' SKATERS in particular addresses the contemporary issue of cyber bullying, and the challenges that social media presents. My books contain little to no swearing, and side-plot romances that are slow-burn and appropriate for younger audiences.
Could you please tell us something curious about you and/or your book?
I am a musician and am constantly singing or whistling or humming, to the point that it drives my family crazy because I can often only remember one line, which I sing over and over again without realizing I'm doing it. I also play the piano, the organ, and the flute, and am learning the bass guitar. I infused this love of music into my heroine in THE WINDFALL APP, who is a pianist.
Is this your first time participating in Kentucky Book Festival? If yes – what are you looking forward to
the most? If you've participated before – what was your favorite experience at the Festival?
I have participated in KBF for several years and my very favorite part is always meeting and talking with readers. Meeting the other authors is another major bonus! Writing is often so solitary, and getting the chance to connect with readers makes all the hard parts worth it. One year, in particular, a young reader excitedly approached my table and said she was hoping I'd be there again because she'd loved my last book. As you can imagine, that just made my entire day! And, let's be honest, my week and really my entire month! Readers are seriously the BEST.
Teresa Richards' novels have received Editors Pick, Best Book, and Top Pick distinctions from Evernight Teen, LASR, and Night Owl Reviews. Her newest novel, Flippin' Skaters, won a first chapter contest award at the SCBWI Mid-south fall conference prior to publication.