What will Kentucky Book Festival visitors find on your table?
Girl: short story, poetry, song and recipes tell the story of a young girl as she navigates themes of self worth, identity, trauma and resilience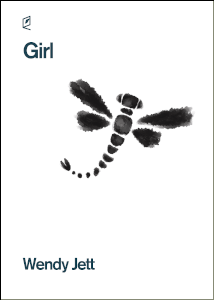 Whom do you invite to stop by? Who will benefit from reading your book?
Readers who enjoy strong voice in storytelling, and powerful female role models
Could you please tell us something curious about you and/or your book?
Girl followed me around, speaking to me in the quiet moments until I finally gave in and wrote her story.
Is this your first time participating in Kentucky Book Festival? If yes – what are you looking forward to the most? If you've participated before – what was your favorite experience at the Festival?
I am looking forward to networking with and supporting other Kentucky writers.
Wendy Jett is a long time fitness instructor,  decoupage nerd, improv junkie and loves to write. Girl is a mixed-genre family story, told through the innocent perspective of a young daughter, granddaughter, sister, friend. Stories and poems propel the narrative both in action and in emotion.