What will Kentucky Book Festival visitors find on your table?
Visitors will find my novel What the Jaguar Told Her, a magical realist tale set in Atlanta in 2001. It's about a thirteen-year-old girl named Jade who comes to terms with her Mexican-American identity with help from Itztli, an elderly jaguar-storyteller. In the woods behind her house, Itztli tells Jade stories of ancestral Mexico. As Jade navigates big changes in her life and the world around her, his stories take on new meaning, and Jade must learn to have patience and strength to become who she was always meant to be. Kirkus gave the book a starred review and called it "A coming-of-age story with parallels to Judy Blume's classic Are You There God? It's Me, Margaret."
Visitors will also find the brand-new Spanish edition, Lo que le contó el jaguar.
Free copies of the teaching guide will also be available. It's full of activities and ideas that help readers connect in fun ways with the Mesoamerican art that inspired Itztli's stories. A Note on Research in the back of the book directs curious readers to some of these primary-source materials, too.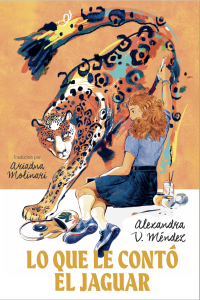 Whom do you invite to stop by? Who will benefit from reading your book?
Everyone is invited to stop by! Readers ages ten and up and their parents or caregivers will be interested in Jade's journey, as will adults who recall the early 2000s (corded phones, Destiny's Child), and anyone who enjoys stories about nature, family, and diversity in the South.
Kids who love books about mythology will be interested in the stories Itztli tells Jade—myths and history from pre-Columbian and colonial Mexico—and the way they weave together with Jade's life. Middle-schoolers will likely resonate with some of the challenges Jade faces as she makes friends at a new school, tries out for the cross-country team, and gets her period.
This book is also for art-lovers. The jaguar-storyteller doesn't just tell Jade stories—he draws and paints them for her, too. Jade's journey is largely about learning about Mesoamerican art and writing, and coming to see herself as an artist, not just someone who doodles in her notebooks.
Most importantly, perhaps, What the Jaguar Told Her is for anyone who craves stories that defy stereotypes about the South and reflect its diversity. It's about a girl with a Mexican mother and a white American father coming of age in Atlanta. It celebrates this region's natural beauty and doesn't shy away from its complexities. This book is for anyone who feels a disconnect between how the world perceives them and who they understand themselves to be.
Could you please tell us something curious about you and/or your book?
The Wildcat Trail in the book, where Jade meets the jaguar-storyteller, is based on an actual trail near the house where I grew up in Atlanta! Part of what I strove to capture in this book was the magic of my childhood, playing with friends in and around the Wildcat Trail and the creek beside it, in a time before cell phones and the ubiquitous Internet. It was a time when a kid's mind could easily wander its own imagined paths and become absorbed in fantastical drawings of their own creation, using colored pencils on a sheet of notebook paper. This book is a way to remind readers of these deep, analog delights.
Is this your first time participating in Kentucky Book Festival? If yes – what are you looking forward to the most? If you've participated before – what was your favorite experience at the Festival?
This is my first time participating in the Kentucky Book Festival, but not my first time visiting Joseph-Beth Booksellers! When I was a kid, my academic parents brought me with them to the Kentucky Foreign Language Conference at the University of Kentucky, and a major highlight of that trip was visiting this bookstore. I was absolutely enraptured!
I'm extremely excited to participate this year and meet readers and fellow authors with stories to tell about the South.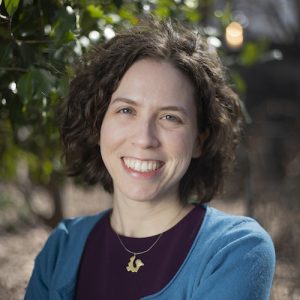 Alexandra V. Mendez is a writer, teacher, and scholar who grew up bilingual in Decatur, GA, with family roots in Mexico and Mississippi. What the Jaguar Told Her explores themes of identity, friendship, crushes, loss, and looking for answers to life's toughest questions in sumptuous detail.