What will Kentucky Book Festival visitors find on your table?
Dear Ann, novel, 2020. Ann looks back to her youth in the Sixties and wonders what it would have been like if she had gone West instead of East. Can she really marine an alternate life?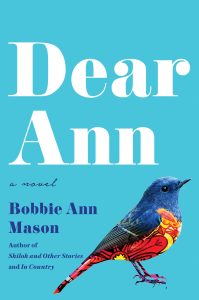 Patchwork, Bobbie Ann Mason: A Reader, from the University Press of Kentucky, 2018. This collection ranges through short stories, memoir, literary criticism, excerpts from novels, and a variety of humor pieces.
In Country, novel, 1985
This novel centers on a teenager's quest to learn about her father, who died in Vietnam just before she was born. It was filmed in Kentucky with Emily Lloyd and Bruce Willis.
Shiloh and Other Stories was my first book of fiction. I had begun publishing stories in the New Yorker, and this collection emerged in 1982.
Whom do you invite to stop by? Who will benefit from reading your book?
I'm eager to see anyone who loves to read!
Could you please tell us something curious about you and/or your book?
Dear Ann, my most recent novel, was inspired by the noted group of Kentucky writers—Ed McClanahan, Gurney Norman, James Baker Hall, and Wendell Berry—who went to Stanford University on creative writing fellowships in the Sixties. The novel is dedicated to them.
Is this your first time participating in Kentucky Book Festival? If yes – what are you looking forward to the most? If you've participated before – what was your favorite experience at the Festival?
I've been to almost every Kentucky Book Festival, going back to the Eighties, when my collection of short stories, Shiloh and Other
Stories, was introduced. I always enjoy seeing old friends and fellow authors, and it is a special pleasure to see readers I recognize from years past. And of course I welcome new readers.
Bobbie Ann Mason is the author of numerous books, including Clear Springs, a finalist for the Pulitzer Prize. In Dear Ann, she captures the excitement of youth and the nostalgia of age and relates how the consideration of the road not taken can illuminate, and perhaps overtake our present.