What will Kentucky Book Festival visitors find on your table?
My latest book, Anatomy of a Duel: Secession, Civil War, and the Evolution of Kentucky Violence, is the history of a duel that took place near Maysville, Kentucky, during the Civil War between a Union colonel and a pro-Confederate civilian. The book also examines the secession crisis through the lens of this duel and explores how violence in the Bluegrass State evolved after that conflict.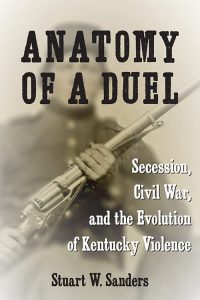 I am also the author of Murder on the Ohio Belle, which looks at two murders that took place on board an Ohio River steamboat in 1854. This book also examines Southern honor culture, vigilante justice, interpersonal violence, and the Civil War history of the steamboat Ohio Belle.
My other books are Civil War histories, including The Battle of Mill Springs, Kentucky and Perryville Under Fire: The Aftermath of Kentucky's Largest Civil War Battle.
Whom do you invite to stop by? Who will benefit from reading your book?
Anatomy of a Duel: Secession, Civil War, and the Evolution of Kentucky Violence will appeal to Civil War enthusiasts, those interested in Kentucky history, and readers who want to learn more about dueling and violence during the 19th century.
Could you please tell us something curious about you and/or your book?
While most Americans are familiar with dueling thanks to the musical Hamilton, the duel discussed in Anatomy of a Duel: Secession, Civil War, and the Evolution of Kentucky Violence was very different from the affair of honor fought between Aaron Burr and Alexander Hamilton. While Burr and Hamilton used pistols and stood close to one another, the two duelists in my study fought with rifles at sixty yards. Like the Burr-Hamilton duel, however, only one of the antagonists survived.
Is this your first time participating in Kentucky Book Festival? If yes – what are you looking forward to the most? If you've participated before – what was your favorite experience at the Festival?
The Kentucky Book Festival is a wonderful experience. In addition to allowing authors to interact with wonderful readers, it also gives writers the great opportunity to engage with other authors. It's always fun to run into old friends from previous festivals and to learn about their newest books and their future projects.
Stuart W. Sanders is former executive director of the Perryville Battlefield Preservation Association. Anatomy of a Duel examines why white male Kentuckians engaged in the "honor culture" of duels and provides fascinating narratives that trace the lives of duelists and opponents.