What will Kentucky Book Festival visitors find on your table?
If you stop at my table, you will find my debut book of poetry, Grenadine and Other Love Affairs. This book is a love story, but probably not the one that you expect. Read it for the romance, but also for the math, music, and feminism. Read it if you are interested in using art, science, and history as twisty extended metaphor. Read it for musical language, formal and experimental poetic structure, intimate portraiture, fragmented and interwoven imagery, and surprising callbacks. Or just read it, and then tell me where you found what you needed.
Whom do you invite to stop by? Who will benefit from reading your book?
This book is for writers, optimists, and romantics. It is for people who love language like it is a puzzle to be solved. It is for people who would cross a mile of small talk for an inch of authenticity.
Could you please tell us something curious about you and/or your book?
My publisher picked me out of a crowd at a Kentucky State Poetry Society conference and offered me an opportunity to write a book of sonnets. Years later, this is that book, and it evolved to include many poetic forms, including a new form called Lyric Glossary that I created to serve this work. And yes, there are also sonnets, because how could there not be?
Is this your first time participating in Kentucky Book Festival? If yes – what are you looking forward to the most? If you've participated before – what was your favorite experience at the Festival?
This is my first time participating in the Kentucky Book Festival, and I look forward to being a part of a bustling literary community for a day. The work we do as writers can be such a solitary pursuit, and it will be a joy to authentically connect with other readers and writers.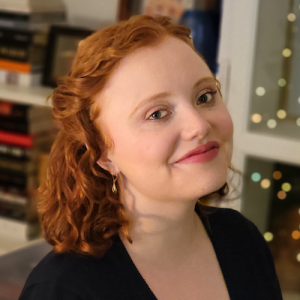 Carolyn Grace graduated from Berea College with an undergraduate degree in English composition and a minor in music performance. Grenadine and Other Love Affairs is her first book of poetry, the quest to make sense of oneself and the world, to excavate ever deeper layers of meaning.