What will Kentucky Book Festival visitors find on your table?
My most recent release is called Children of Ragnarok, book 1 of Runestone Saga, a duology rooted in Norse mythology. A notorious coaster joins forces with a traveling musician and runecaster to navigate the dangerous world after the Last Battle. You'll also find books from three other best-selling teen fantasy series, including The Heir Chronicles, The Seven Realms, and the Shattered Realms.
Whom do you invite to stop by? Who will benefit from reading your book?
I like to say that I write for teens of all ages. All of my novels are classed as YA (young adult) but my readers range from ten to eighty-ish. I grew up reading fantasy, and I'm still writing the kinds of novels I like to read. These stories might appeal to those who enjoy books featuring swordplay (axeplay?)  romance, and ruthless scheming with a splash of magic.
Could you please tell us something curious about you and/or your book?
I grew up reading fantasy. It always seemed to me that most stories could be improved by adding a little magic (or a lot.) So it's no surprise that, as an author, I've gravitated to stories with elements of magic.
My first series, The Heir Chronicles, was set in the magical world of Ohio, a place I knew well (except for the magic part.) It was fun bringing magic to places like Cedar Point, Appalachian Ohio, and the Cleveland flats.
Then, for ten years over two series and eight books, I was immersed in the Seven Realms, a classic high fantasy world. Long ago, far away, castles and swordplay, politics, dragons and pirates. I felt at home in this Tolkienesque, Game of Thrones sort of setting. Most of my ancestors had come from the British Isles, the model for Middle Earth and Westeros.
Then I had my DNA tested. There, amid the expected England, Ireland, and Scotland, was Scandinavia.
Scandinavia? That made no sense. Hint: no one would mistake me for a shield-maiden. The Vikings were bands of pirates who traveled the world, pillaging, plundering, and slaughtering, then returning with their loot to their homes in the north. Could it be that I descend from pillagers and plunderers?
Cool!
When I set out to learn more about them, I discovered that there are no contemporaneous Viking histories written by the Vikings themselves. Theirs was an oral tradition in the form of sagas, epic poetry written down by skalds in Iceland long after their conversion to Christianity. Otherwise we have accounts from those who were being pillaged, plundered, and slaughtered. We might expect them to be somewhat biased.
It's not surprising that my British forebears carried Norse blood. The Vikings came as raiders, traders, and invaders who eventually controlled large parts of the British Isles, settling permanently in England, Ireland, and Scotland. Traces of the Vikings are still there, from rune-covered pillars to the remains of Viking towns at Dublin, Ireland and York, England. In reading the sagas and texts handed down from the Viking Age, I began to realize just how much Tolkien and George R.R. Martin drew on that literature.
A Viking longship, the Draken Harald Hårfagr, is moored at Mystic Seaport in Connecticut. Built in modern-day Denmark, the ship retraced the path of Viking explorer, Leif Eriksson from Norway all the way to North America.
I tried to imagine crossing the stormy Atlantic in such a vessel. What kind of courage or desperation would drive people to take such risks? The key, I believe, is Wyrd, the Viking concept of fate—that a person's future is determined at birth.  Not even the gods could change it (see Ragnarok.) However, magic could be used to predict the future, and shape it to a degree.
If the Vikings could not change their fate, they could choose how to meet it. They were survivors. Their homelands were dealt a hard hand—an unforgiving climate and limited arable land. So they built ships that opened the world to them.
That history appealed to me. All of my stories are about survivors—thieves, pirates, teen warriors, street musicians, vagabonds, hedge witches, and, yes, princesses—who find a way to succeed in the face of impossible challenges—magical and otherwise. I'm hard on my characters—I often say that you don't want to be a character in one of my books. But I hope you'll be willing to step into their world and share their journey for a little while.
Is this your first time participating in Kentucky Book Festival? If yes – what are you looking forward to the most? If you've participated before – what was your favorite experience at the Festival?
I participated in the Kentucky Book Festival a couple of years ago, and I received such a warm welcome! Kentucky and I go way back—one of my ancestors was a Revolutionary War soldier who was a pioneer in Lincoln County. I love book festivals in general, because I get to spend the day with my tribe–people who love story.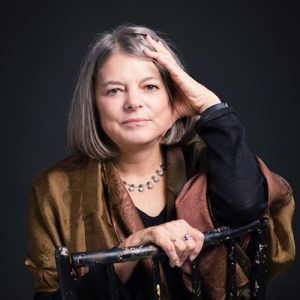 Ohio-born author Cinda Williams Chima is a New York Times best-selling author of the Seven Realms, Heir Chronicles, and Shattered Realms teen fantasy series. Her newest duology, The Runestone Saga, (Balzer + Bray) launched fall 2022 with Children of Ragnarok. It marries Norse mythology and magic with Viking adventure, swordplay, romance and cut-throat politics.