What will Kentucky Book Festival visitors find on your table?
Just. Like. You. is a joyful celebration of individuality and diversity. Follow a class of students throughout the day from morning to night and discover what makes each of them unique: from different talents, abilities, and body sizes, to ethnicities, religions, gender expressions, and more. There are so many things to love about being you. Artist Avneet Sandhu's exuberant, colorful portrait illustrations bring the classroom to life.
Whom do you invite to stop by? Who will benefit from reading your book?
Children, from ages two up to age six or seven are the best audience for Just. Like. You. Younger readers might respond to the rhythm and rhyme of the language, and all ages can enjoy looking for characters like themselves and the people they know throughout the pages. For early elementary school children there are many opportunities to discuss and learn about the ways we are the same and the ways we are different.
Could you please tell us something curious about you and/or your book?
In the book, the character Lu speaks Sign Language. I know only a few words in sign language, so I was delighted when I saw the illustrations for the first time and Avneet, the illustrator, depicted Lu signing a word I know (and one of my favorites): friend.
Is this your first time participating in Kentucky Book Festival? If yes – what are you looking forward to the most? If you've participated before – what was your favorite experience at the Festival?
This is my first time participating in the Kentucky Book Festival. Though I have been to smaller festivals, this is my first state festival, which feels extra special, particularly because I was born and raised in Kentucky. I am looking forward to meeting the other authors and fellow book lovers. And, I am thrilled that I will have the chance to meet and talk to readers – children and their families – about who they are, what they like to do, and what they love to read.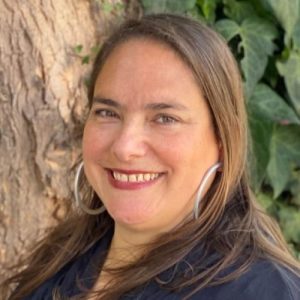 Meredith is a picture book author who strives to tell authentic stories that reflect kids' uniqueness, wonder, and magic. She is an activist and advocate, committed to a more just, more joyful world. She loves playing board games that go on too long, making mini books, and singing show tunes (when she's sure no one is around). Born and raised in Lexington, Kentucky, Meredith could often be found in bookstores and libraries when she was young. Now a children's librarian, Meredith lives in San Francisco with her two sons.