What will Kentucky Book Festival visitors find on your table?
RUNAWAY: Notes on the Myths That Made Me
In 1970, Erin Keane's mother ran away from home for the first time. She was thirteen years old. Over the next several years, and under two assumed identities, she hitchhiked her way across America, experiencing freedom, hardship, and tragedy. At fifteen, she met a man in New York City and married him. He was thirty-six.
Through a deft balance of journalistic digging, cultural criticism, and poetic reimagining, Keane pieces together the true story of her mother's teenage years, questioning almost everything she's been told about her parents and their relationship. Along the way, she also considers how pop culture has kept similar narratives alive in her. At stake are some of the most profound questions we can ask ourselves: What's true? What gets remembered? Who gets to tell the stories that make us who we are?
The Louisville Anthology
Living on the border of two regions creates a hybrid sensibility full of contradictions that can be difficult to articulate beyond "from Louisville, not Kentucky." In this collection of evocative essays and poems by natives and transplants, The Louisville Anthology, edited by Erin Keane, offers locals and visitors a closer look at compelling private and public spaces around town. It's an attempt to articulate what defines Louisville beyond its most recognized cultural exports.
Whom do you invite to stop by? Who will benefit from reading your book?
True crime fans, pop culture omnivores, people with difficult family stories, mothers and their adult daughters who want a book to read together and discuss, fans of Gilmore Girls and Star Wars.
Could you please tell us something curious about you and/or your book?
True to its title, Runaway covers a lot of geographical ground, with key scenes in Kansas, Colorado, Massachusetts, Vermont, North Carolina, New Jersey, New York City, London, and even the Canary Islands — and there's a stop at the facility that used to be called the Narco Farm right here in Lexington.
Is this your first time participating in Kentucky Book Festival? If yes – what are you looking forward to the most? If you've participated before – what was your favorite experience at the Festival?
This is my first time participating in Kentucky Book Festival, and I'm looking forward to talking to readers and book lovers — particularly people who love memoir and movies, because Runaway sparks such great conversations about family myth-making, generational differences, and pop culture.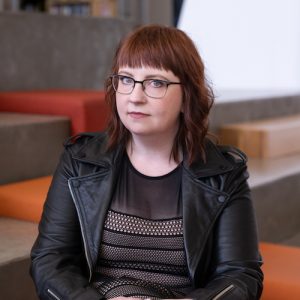 Erin Keane is the author of the memoir Runaway: Notes on the Myths That Made Me (Belt Publishing), one of NPR's best books of 2022. She received her MFA in poetry from Spalding University and is the author of three collections of poems. Keane is also an award-winning journalist.