Teaching kids history and science doesn't need to be boring. Whether writing fact or fiction, each of these talented authors artfully merges themes and concepts from past and present history and science to make a lasting impact on young readers. Tune in to this lunchtime session to learn more about how they do it!
Shawn Pryor is the creator and co-author of the graphic novel mystery series Cash and Carrie, co-creator and author of the 2019 GLYPH-nominated football/drama series Force, and author of Kentucky Kaiju and Jake Maddox: Diamond Double Play.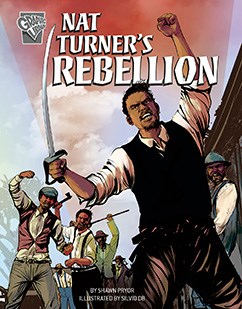 Nat Turner, an enslaved black man, believed he was chosen by God to battle against the evils of slavery. Driven by visions, Turner banded with six others, and on August 22, 1831, his rebellion began with attacks at plantations in Southampton, Virginia.