What will Kentucky Book Festival visitors find on your table?
Stop by and pick up a copy of my debut novel Of Sand and Bone, along with a free bookmark.
The story is led by two people searching for a miracle. Their connection, their desire for a different life, and their strength will take them further than any explorer has ever gone before.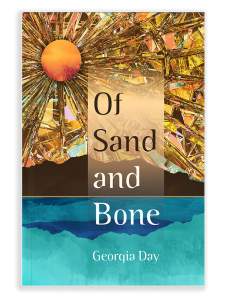 Whom do you invite to stop by? Who will benefit from reading your book?
Of Sand and Bone is an epic journey through a desert world. Fans of speculative fiction, Dune, and Lord of the Rings will enjoy this dark story of discovery.
The night sky, particularly the constellation Orion, is a major part of the book, so I'd like to put a question out to Kentucky Book Festival attendees: What do you look for in the night sky? I will have small tokens of appreciation for those who share their answers with me.
Could you please tell us something curious about you and/or your book?
An interesting fact about Of Sand and Bone is that its working title was Guernica, after the Picasso painting. The first time I saw it in a book, I was drawn to the woman on the left side, screaming at the sky. Her expression is of one forsaken by God, which is a recurring feeling for the characters in my story. The title did not fit the final draft in the end, and so it was changed to Of Sand and Bone.
This is my debut novel, but I have always been a bookworm. In elementary school, my teachers called my parents to tell them I was reading too much. I would put a book in my lap under the desk and read instead of paying attention. I still got good grades, so they weren't worried about that. They were calling because I would take the book outside and read instead of playing with the other children at recess. I think they were expecting my parents to get me to stop, but my parents didn't see a problem. I stopped reading in class but started smuggling books under my shirt to read at recess. In my head, that was a good compromise.
Is this your first time participating in Kentucky Book Festival? If yes – what are you looking forward to the most? If you've participated before – what was your favorite experience at the Festival?
This is my first time at the Kentucky Book Festival. I'm looking forward to meeting fellow book lovers, hearing about their favorites, and getting the chance to hang out in Lexington.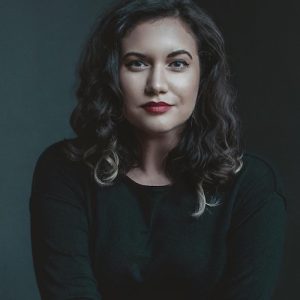 Georgia Day holds a B.A. in Literary Studies from the University of Texas at Dallas and has dreamed of being a writer her entire life. Of Sand and Bone is a story about breaking with traditions in favor of forging a new path.