What will Kentucky Book Festival visitors find on your table?
Slavery and Freedom in the Bluegrass State: Revisiting My Old Kentucky Home is a collection of eleven essays which address important topics and themes central to the Kentucky African American experience
The Kentucky African American Encyclopedia is a collection of over a thousand entries on people places events organizations in Kentucky
Whom do you invite to stop by? Who will benefit from reading your book?
People interested in Kentucky and the South
Could you please tell us something curious about you and/or your book?
The Slavery and Freedom book digs deep into Kentucky history to reveal myths about the state's past.
Is this your first time participating in Kentucky Book Festival? If yes – what are you looking forward to the most? If you've participated before – what was your favorite experience at the Festival?
I participated in the festival eight years ago. I enjoyed meeting with readers.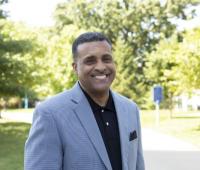 Gerald L. Smith is professor of history at the University of Kentucky and pastor of Pilgrim Baptist Church in Lexington. In Slavery and Freedom in the Bluegrass State, editor Gerald L. Smith presents a collection of essays that uncover stories of pain, protest, and perseverance of African Americans in Kentucky.