What will Kentucky Book Festival visitors find on your table?
Front and center on my table will be A Journey in Color: The Art of Ellis Wilson, my first children's picture book. The book tells the story of Ellis Wilson, the acclaimed Harlem Renaissance painter who grew up in Mayfield in far western Kentucky and knew from childhood that he wanted to be an artist. The book is beautifully illustrated in watercolors by Nashville artist Michael McBride, who also felt a calling to become an artist from childhood. Visitors will also find images of Ellis Wilson and his amazing, vibrant artwork, as well as giveaway bookmarks and coloring sheets based on Wilson's art for every person who stops by my table.
Whom do you invite to stop by? Who will benefit from reading your book?
I hope all young readers will stop by, as well as adults who have young readers in their lives. I'd love to sign and personalize a book for a special holiday gift. The book is geared towards children in grades K-5, their families, and anyone who loves stories about art and Kentucky.
Could you please tell us something curious about you and/or your book?
I'm living proof that it's never too late to follow a dream. For years I wanted to write books, but I was busy practicing law, raising my kids, and generally not finding the time to write. At age 55 I decided to go back to school for an MFA in Creative Writing, which proved to be the right decision for me. A Journey in Color: The Art of Ellis Wilson is my fourth book since 2019, and I have two more under contract. And the fact that Ellis Wilson never gave up on his dream to become an artist is one of the reasons I was drawn to his story.
Is this your first time participating in Kentucky Book Festival? If yes – what are you looking forward to the most? If you've participated before – what was your favorite experience at the Festival?
I've loved being part of the Kentucky Book Festival in past years with my books of poetry and fiction for adults, but I'm super excited to participate for the first time in the children's book section. I can't wait to share my book with young readers.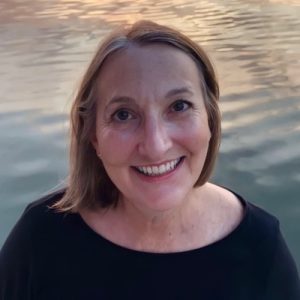 Jayne Moore Waldrop is a writer and attorney who loves telling stories about her native western Kentucky. Michael McBride is a Tennessee-based artist and a professor at Tennessee State University. A Journey in Color: The Art of Ellis Wilson tells the story of a young man's determined path to become a classically trained artist.