What will Kentucky Book Festival visitors find on your table?
They will find my debut novel, "The Hunt for the Peggy C: A World War II Maritime Thriller," which I like to describe as Casablanca meets Das Boot. It's about an American smuggler's struggle to rescue a Jewish family on his rusty cargo ship–first for money, and then for love–outraging his mutinous crew of misfits, and provoking a hair-raising chase by a brutal U-boat captain bent on revenge."
The story pits two very different but equally driven men: Captain Jake Rogers, a gruff U.S. Naval Academy dropout who rumor has it fled America because of a murder, and Captain Viktor Brauer, a struggling U-boat captain who is an ardent Nazi supporter and believes he is doing God's will.
The conflict starts when Rogers agrees to smuggle a Jewish family he's never met from Nazi-occupied Amsterdam to join relatives in Gibraltar. The plan goes awry when a U-boat boarding party discovers the hidden cargo of Jews, and Rogers pulls off a cunning escape from their U-boat. Most of his crew of misfits are furious but go alone for what they believe will be a huge reward.
The U-boat's battle-weary captain also is furious, knowing that his shaky career is over if he fails to catch the Peggy C and rescue–or avenge–his men.
As the Peggy C races across 3,000 miles plagued by naval battles, minefields, horrendous weather, and even Hitler's pirates, Rogers falls in love with the family's eldest daughter Miriam, a sweet medical student in her twenties with a militant streak. That makes his crew believe he has gotten dangerously soft, and they mutiny. Everything seems hopeless when Rogers is badly wounded, and Miriam has to prove she's as tough as her rhetoric when the U-boat closes in for the kill.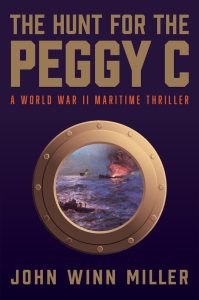 Whom do you invite to stop by? Who will benefit from reading your book?
It is a deeply researched action-adventure that will thrill fans of historical fiction with the attention to detail about life aboard a tramp steamer and a U-boat, while fans of thrillers will be intrigued by how the complex characters deal with moral dilemmas in war.
And there's more. Here is how Robin Hutton, New York Times best-selling author of "Sgt. Reckless: America's War Horse" and the Military Writers Society of America's 2022 Writer of the Year, describes the novel. "Impeccably researched, this intense sea chase has at its heart a wonderful love story that will keep you riveted until the very end! I could not put it down until I found out how it was resolved. I highly recommend this book!"
Could you please tell us something curious about you and/or your book?
I have never been on a tramp steamer or a U-boat, and I knew next to nothing about the sea when I started to write my novel. So why did I pick this subject? I didn't. It picked me after I watched a terrible movie with my wife and daughter years ago. I kept telling them I could write a better screenplay. That night, I had a dream. When I awoke, I knew the first and last scenes and the name of the ship, the Peggy C, nothing else. So, I had to spend the next few years filling in the cavernous gaps in my knowledge.
Is this your first time participating in Kentucky Book Festival? If yes – what are you looking forward to the most? If you've participated before – what was your favorite experience at the Festival?
This is my first time participating in the book fair, but I have attended it before and look forward to telling my story. I became a journalist many years ago because I wanted to learn how to write the great American novel–or at least a novel. I surprised myself by not only doing it but finishing the sequel and pounding out most of the third volume. As you can tell, I have a real passion for the characters and World War II history that I'd love to talk about with readers.
John Winn Miller is an award-winning investigative reporter, foreign correspondent, editor, newspaper publisher, screenwriter, movie producer, and novelist. The Hunt for the Peggy C is about an American fugitive who struggles to rescue a Jewish family on his rusty cargo ship.