What will Kentucky Book Festival visitors find on your table?
The main book I'll be promoting will be The Lost Etheridge: Uncollected Poems of Etheridge Knight, which I edited. I will also have copies of two collections of my poems: Advice to a Young Poet and Folly.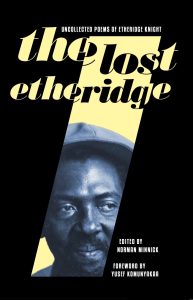 Whom do you invite to stop by? Who will benefit from reading your book?
Anyone interested in poetry but also those who might like to discover previously unpublished and long-lost works by a leading figure of the Black Arts Movement whose work ranges from poems written while incarcerated in the 1960s to those written near the end of his life in 1991.
Could you please tell us something curious about you and/or your book?
Although we never met, both Etheridge Knight and I grew up in Kentucky and ended up in Indianapolis. While we had vastly different backgrounds, we both write mainly of love and navigating society as trickster figures.
Is this your first time participating in Kentucky Book Festival? If yes – what are you looking forward to the most? If you've participated before – what was your favorite experience at the Festival?
No. My favorite experience was meeting people from all walks of life interested in the written word.
Norman Minnick is the author of several collection of poetry and the editor of The Lost Etheridge: Uncollected Poems of Etheridge Knight. This book features over 300 poems by the award-winning Black Arts Movement poet, Etheridge Knight.