What will Kentucky Book Festival visitors find on your table?
At my table you will find my most recent poetry book, Between Two Worlds, which was published by Act of Power Press in 2023. I will also have copies of Swing Set Confessional, a chapbook published by Act of Power Press in 2021. I will also have some "swag" – notecards and broadsides featuring art and poetry from the books.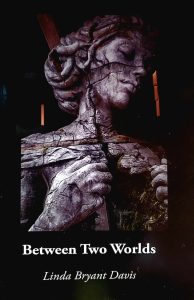 Whom do you invite to stop by? Who will benefit from reading your book?
Between Two Worlds speaks to people affected by addiction either as a (hopefully) recovering addict or the parent, spouse, friend or family member of an addict. The book uncovers many emotional impacts of addiction and the painful journey to acceptance and forgiveness. The book will also appeal to people who live with autism. Quite a few of the poems are about raising an autistic son. These poems describe this lonely, confusing – and sometimes  profoundly rewarding – journey.
Could you please tell us something curious about you and/or your book?
I saw a photograph of a piece of sculpture that took my breath away. I thought it perfectly illustrated the complex emotional journey of my book. But I had no idea of its title or the name of the artist who created it. I searched for it for months. I was about to give up when I found a copyright-free photograph of it online. It's a gigantic 14-ton sculpture by Daniel Popper entitled "Thrive." It shows a gargantuan woman carved in concrete who appears to be cracking open. She seems to be in pain but transforming into something hopeful at the same time. She is pulling her chest open and inside her there's a tunnel with walls made of growing plants. It was beyond satisfying to finally find what I considered to be the perfect image for  the cover of my book.
Is this your first time participating in the Kentucky Book Festival? If yes – what are you looking forward to the most? If you've participated before – what was your favorite experience at the Festival?
I look forward to meeting and discovering new authors. I hope to connect with readers, especially those who are interested in stories of recovery and transformation.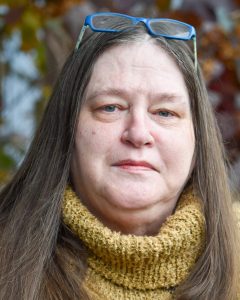 Linda Bryant Davis is a retired journalist who co-hosts Kentucky Writers Roundtable, a weekly talk show on RadioLex 93.9. In Between Two Worlds, we meet a family in which parents drink too much, children fear their Bible-toting grandma is secretly a child -eating dinosaur, and a sister goes "existential."