What will Kentucky Book Festival visitors find on your table?
All of my books are a celebration and motivation for Kentucky's beautiful outdoors! If you're looking for an easy walk in the woods, a heart-thumping hike atop a mountain ridge or simply a wander through a public garden, I have lots of ideas to share with you. Read on to get a glimpse into each of my books:
Five Star Trails: Louisville and Southern Indiana
This is my latest effort and the second edition is outstanding. Louisville, known as the City of Parks, has long valued the natural landscape and the provisioning of outdoor recreation. Explore 40 of Louisville's five-star trails—including the best walking paths and hiking treasures in central Kentucky and southern Indiana. With suggested hikes in this guide, you'll wind through hilly woodlands, around beautiful lakes, along meandering creeks, and across expansive meadows.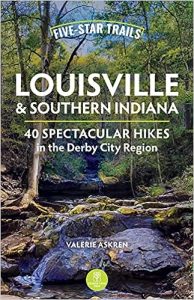 Hike the Bluegrass and Beyond
This is your personal guide to walk, roll, and stroll your way across the best trails in the Bluegrass region. From nature preserves and wildlife management areas, to the premier hikes of the Red River Gorge and the Sheltowee Trace, this book will introduce you to the hidden wonders of Kentucky.
Backpacking Kentucky
Written for both beginner and experienced backpackers, this book will get you off the beaten path and into the beautiful backwoods of the state. Endowed with a proliferation of sandstone arches, tumbling waterfalls, towering hemlocks, spring-fed creeks, and gorgeous wildflowers, Kentucky has an impressive array of overnight options for the backcountry adventurer. Each entry includes lively trail descriptions, detailed topographical maps, camping recommendations, and full-color photographs. A special section on backpacking with kids is included to get the next generation out on the trails!
Fly Fishing Kentucky
Designed for new and seasooned fly anglers, this book covers the top 36 trout waters in Kentucky, including creeks, lakes and tailwaters. Each entry provides information regarding the ecosystem, fishing recommendations, and driving directions. Includes detailed guidance on: Fly, Tackle and Gear Selection; Basic Casting Skills; Special Fishing Techniques; Reading Water to Find Trout; Matching the Hatch; and Fly Selection.
Backcountry Cuisine: Tasty Meals for Off-Grid Dining
Make your next adventure a culinary exploration! With over 130 easy-to-follow recipes, learn how you can make everything from breakfast tacos to quiche; salmon burgers to beef filet; and mini chocolate lava cakes to key lime pie. Many gluten-free, vegan and vegetarian options are included. Clear instructions and colorful pictures show you how easy it is to bake yummy pizza and cornbread; dehydrate everything from enchilada sauce to vegan queso; and use silicone cookware to cook meatloaf and corn custard in the backcountry.
Whom do you invite to stop by? Who will benefit from reading your book?
Come visit and share your favorite outdoor spots, and learn about some new ones! Regardless of age and skill level, more and more people are discovering the joys of being outside. It is so important to accommodate those with mobility challenges (did you know there was a 0.25-mile paved trail to a gorgeous waterfall?); practice new skills (fly fishing is an amazing art form!); and learn about our beautiful state (how do those incredible sandstone arches form?). Stop by for a chat and let's learn more from each other.
Could you please tell us something curious about you and/or your book?
I love anything outdoors — from snow skiing to sailing to cycling. But I also love to cook and see food as a pathway to bring people together in fun and interesting ways. I do all the writing, photography, cartography, and design lay-out for my books, which just adds to the fun!
Is this your first time participating in Kentucky Book Festival? If yes – what are you looking forward to the most? If you've participated before – what was your favorite experience at the Festival?
I've participated in KBF for several years — and each year is a bit different. I love talking with other book-enthusiasts and seeing what's new on their tables this year.
After having spent over 20 years as a university researcher and professor, Valerie Askren traded academia for the hardwood forests of Kentucky. Inside Five-Star Trails you'll find descriptions of 40 five-star hiking trails for all levels and interests, as well as insight into the history, flora, and fauna of the routes.