What will Kentucky Book Festival visitors find on your table?
You will find Gay Poems for Red States at my table. It is a book of story poems that came into being primarily as a response to homophobia, transphobia, and erasure at a rural Kentucky high school but that speaks to the sort of violence, beauty, hope, and persistence that grow wild in the hills of Eastern Kentucky.
Gay Poems for Red States began as a collection of poems written from the perspective of a young version of me—a kid I used to be who was silent for years so that I might live to adulthood. These poems are vulnerable verses, truthful stories, moments of darkness and light.
They span the life of a queer man in Appalachia seeking the answer to what should be easy questions: am I supposed to be? Am I supposed to be here?
Whom do you invite to stop by? Who will benefit from reading your book?
Anyone in need of healing or who wants to heal others.
Gay Poems for Red States was described by Neema Avashia as "extend[ing] grace in two directions: back to the child he was, and forward to the queer young people living in rural places today" – my hope is that her words prove as true as possible:
May queer youth read this and feel worthy of life.
May queer adults read this and feel capable of loving and protecting the child they used to be.
May anyone else read this and feel compelled to love harder, protect bigger, and fill shadows with light.
Could you please tell us something curious about you and/or your book?
I met a sweet man named Alex Halsey who has a queer- and Appalachian-owned candle company, bloom™ candles, at a community education event at local arts center. He asked if he could read Gay Poems for Red States. I sent it to him. He was so moved that he made a candle that interprets the collection into a candle, which he sells. He donates part of the proceeds from the candle to LGBTQ youth in Kentucky.
I so love the kind energy of his company that when I was on Good Morning America to discuss Gay Poems for Red States, I took one of his candles with me so that I could feel a connection to them during filming.
Is this your first time participating in Kentucky Book Festival? If yes – what are you looking forward to the most? If you've participated before – what was your favorite experience at the Festival?
This is the first time! I look forward, above all else, to meeting new people and hearing their stories.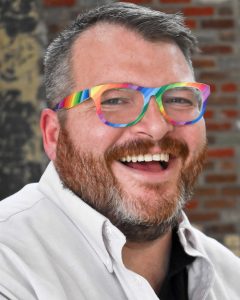 Willie Edward Taylor Carver Jr. holds degrees in French and English from Morehead State University, where he focused his studies on advocacy for students. In Gay Poems for Red States, Carver counters the injustice of a persistent anti-LGBTQ+ movement by asserting that a life full of beauty and pride is possible for everyone.